This was just emailed to me by Jake: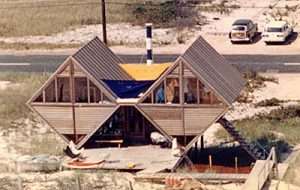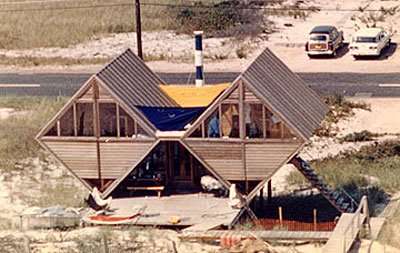 Paying Homage to a Man Who Left His Mark on the East End By Nicholas Morehead, The Southampton Press, June 1, 2006
In the quest to complete his latest project, Jake Gorst is up against a powerful enemy: time. The 36-year-old documentary filmmaker is looking for financial backing to make a movie about his grandfather, the renowned architect Andrew Geller, now in his 80s. Mr. Geller's unconventional use of angular designs throughout Fire Island and the East End in 1950s and 1960s established him among the most prominent East End architects. Examples of Mr. Geller's work can be seen throughout eastern Long Island. There's the Elkin House in Amagansett, built-in 1966 with its series of triangles resembling a geodesic dome unpeeled. And the Pearlroth House, built in what is now West Hampton Dunes in 1958. With its side-by-side double-diamond configuration, the Pearlroth House looks more interstellar spacecraft than domestic domicile.
Considered iconic by most who know it—a modern, progressive, post-World War II resort home—the Pearlroth House, with its bold shapes and striking design, has inspired generations of architects to pursue similar careers, according to Mr. Gorst.
Last spring, owner Jonathan Pearlroth offered to donate the house to Southampton Town rather than demolish it to make way for a new home he plans to build on the site. The Town Board agreed to take the house and in October agreed to move the now-famous box kite-shaped beach house to Hot Dog Beach in East Quogue. There, it will be used as a learning center, part of a larger recreational master plan for the area.
Mr. Geller's designs, Mr. Gorst argues, are significant not only for their architectural brilliance but also for their cultural significance. Through their unique structures and shapes, Mr. Gorst said his grandfather "showed the world … that the common man could indeed be the king of his own castle or castles."
From his early days growing up a child of Russian immigrant parents in Depression-era Brooklyn through his prominent career as vice president of architecture for Raymond Loewy, considered by many to be the father of industrial design, Mr. Geller's story is one that needs to be told, Mr. Gorst said. And it needs to be told soon. In the last two months alone, two potential interview subjects died—Justin Fabricius, who ran the Raymond Loewy office in the early 1970s, and John "Hobby" Miller, who constructed most of Mr. Geller's designs on Fire Island and in the Hamptons.
"Besides them, there are probably about a dozen original homeowners—all in their 80s and 90s—that we need to get to soon," Mr. Gorst said.
Mr. Gorst has made several documentaries through his Northport-based company Jonamac Productions, including "Leisurama," a 2005 film about a Montauk housing development. Jonamac is currently in post-production on "Desert Utopia: Mid-Century Architecture in Palm Springs."
As for the Geller film, Mr. Gorst's crew is ready to go. His wife, Tracey, is set to be the production assistant, and Mr. Gorst himself does most of the camera work and just about all of the editings. He even has a title for the project: "Call Me Andy."
Mr. Gorst expects the movie will cost about $131,100 to make.
Meanwhile, Mr. Geller is "rather overwhelmed with the attention and he doesn't really understand" why anyone is making such a fuss over him, Mr. Gorst said.
"It's unbelievable," Mr. Geller said recently from his Northport home. Having conducted his portion of the film's interviews about a year and a half ago, Mr. Geller said now he's "just sitting here being flattered.
"That's what happens when you have a fantastic grandson."