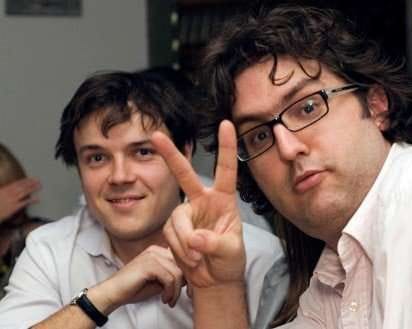 I'm at ad:tech New York today. Looking forward to meeting a few people I've been speaking to on the phone.
Off to vote.
Listening to French conversation in the press room of #adtechny as I write a blog post. All I hear are web 2.0 brand names dropped every min.
heading over to latitude bar for the #adtechny cocktail party. I really could use a drink after today.
Obama is the 44th President of the United States.
Google withdrawing from Yahoo deal; not worth the legal fight. Mission Accomplished.
Off to The Emperor Has No Clothes: The Affluent Consumer Online @ #adtechny & @doshdosh Palin is done. Party going to mutate in next 4 yrs
Playing with the new www.Plaxo.com site before getting the Higbie Bagels with the German.
Eddie Bauer's return policy, a huge part of their brand is purposely vague & disingenuous. The brand is old, tired, boring & will die a slow death
Comments on my "DPA" post brought back memories of cruisin', Monte Carlos, t-tops, IROC's & Z. Cavariccis. What does DPA mean to you LI?
Wish I could be in the Oval Office listening to the Bush & Obama conversation.
I just got hit by friendly fire Rick Rolling Bea. Now I that stupid song stuck in my head.
Back at my desk returning calls & emails. Fun having dinner with Rob, Melissa, Bea at Mexican Radio & drinks with team Greece at Pravada.
Did the Google Analytics home page change? I like.
My weekly review is going analog. Working with pencil and paper today.
A product added to iliketotallyloveit.com only 6 hours ago by a first time submitter is already #3 on Google for its Key Word. I'm shocked.
Off to see 007 at the new Tanger outlet movie theater. It's a warm & damp long island night. Storm's a-brewing.
Double 0 Awesome. This Bond kicks A$$. The new theater @ Tanger Arches is a brand spanking new & clean, please tare down stinky Commack
Digg Facts: Over 30 million users every month, about 16,000 submissions a day, and about 32,000 comments.
Cleaning garage day here at the Barba's & I found my Palm Pilot IIIxe. Damn, there is no way to connect it to any of my computers.
Packing books and listening to mash-ups from the http://mashuptown.com/ podcast. Bose speakers, best present ever.
Taking the German to Benihana's tonight for something different. I think she'll like it and I haven't been since Abracadabra came out.
Alan Keyes files a lawsuit over Obama eligibility. Why doesn't this issue go away?
Pondering. Will Obama offer McCain Sec. of Defense? Clinton Sec of State? What would Lincoln do? Would they accept it? Shouldn't I be sleeping?
Getting acquainted with the Google Analytics visualization feature. Watching trends for the past two years. Wish I could slow the speed down.
What's the etiquette when someone accepts a friendship/connection on a social network? Is emailing a thank you already too spammy? Thoughts?
CEOs of GM, Ford & Chrysler flew private jets to DC to cry poverty. Go home & restructure before begging. Fire PR & fly first class back.
I have 1 hour before the wife gets home. Let's see how much of the Rezorter style sheet I can get done. Richard bear w/ me as I slow u down.
That was a very very productive hour. Going to be a husband for a few hours, continue after she falls asleep. Thank you SomaFM Digitalis.
Done for tonight. Can Richard & I rebuild/launch Rezorter.com in 7 days? That's the challenge I'm enjoying. Going in a totally new direction
'Twas the night before tomorrow, when all through the house, not a creature was stirring, only tony B's mouse.
Great conversation w/ an Internets Celebrities of Ghetto Big Mac, Bodega & Checkmate fame.
Felt great to go back to EUE/Screen Gems today, see the old gang. I've come full circle & ready for what's coming next. I learned a lot there
Listening to Kayne West's new album. Love/hate him this guy is talented. The first track is very sad. 1st album since his mother passed on.
Listening to Kanye's new album again while working on the Rezorter UI design. The first track is my favorite. Album reminiscent of William Orbit
How does my partner Richard work this fast? Now I have to catch up.
Listening to Pink Floyd's The Man & the Journey. Recorded live 1969.
For some strange reason, everyone is awake at 5 am & ready to have breakfast. I guess she's excited to get to work today too.
Been going almost non-stop since 6 am. Going to take a little lunch break. Checkers (the poor man's In & Out burger) here I come!
There is so much in my life to be thankful for.
While Bea sleeps I'm playing with her brand new MacBookPro. Glossy screen, no 2nd button, cold sharp aluminum edges but it's looks awesome!
Productive day of de-cluttering, organizing & packing. Found tons of cool stuff from my childhood. Taking Mrs. Barba out as my reward.